Wallace Collection Private Tour Sponsored by North Bridge House
March 2, 2024 @ 13:30

-

16:00

Free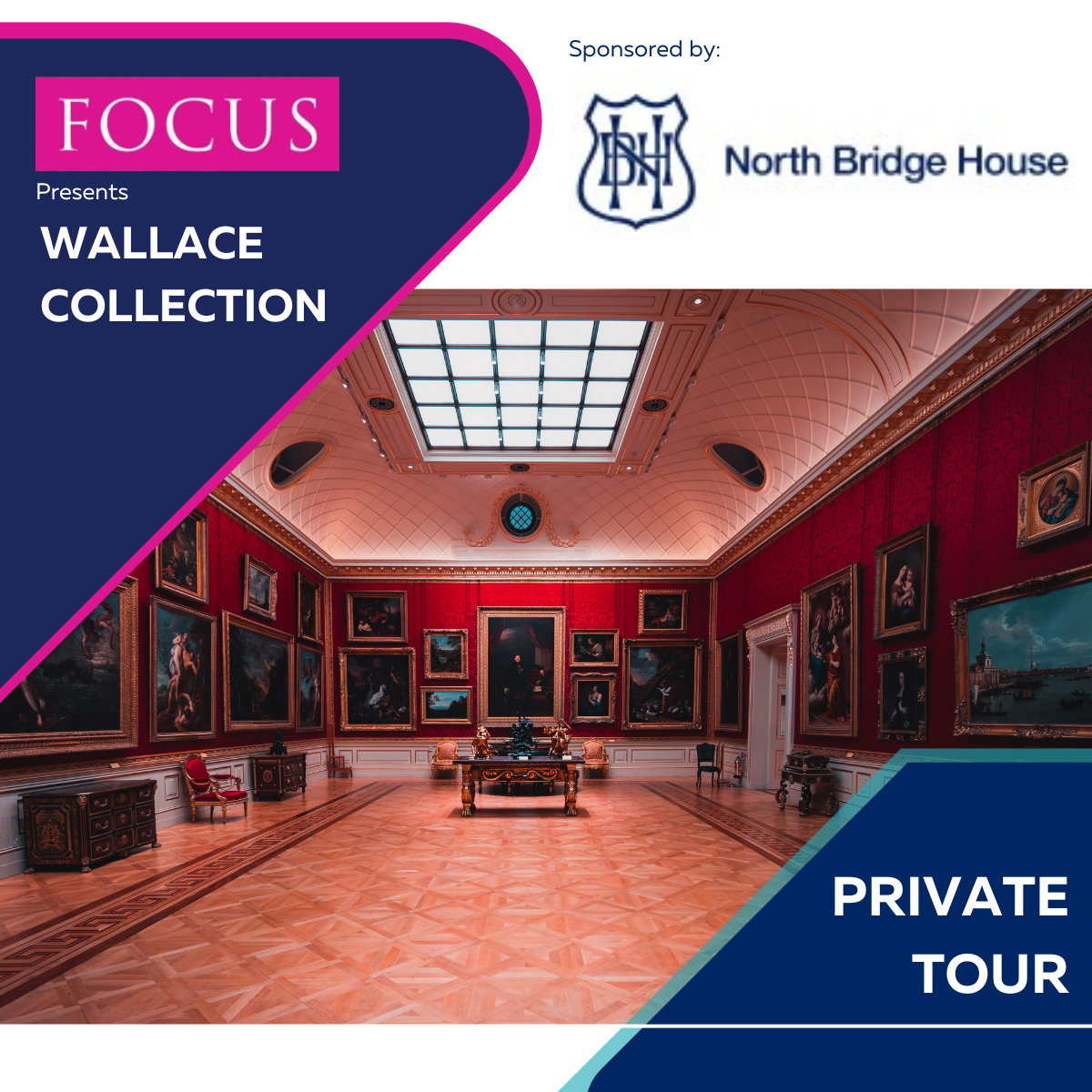 Embark on a cultural odyssey with the Wallace Collection Private Tour, a meticulously curated journey through artistic treasures and historical wonders. Situated in the heart of London, this private tour invites you to witness the grandeur of the Wallace Collection, renowned for its exquisite compilation of fine arts, furniture, and armour.
Event Highlights:
Masterpieces Unveiled: Immerse yourself in the opulence of the Wallace Collection as our knowledgeable guide unveils masterpieces spanning centuries. From renowned paintings to intricate sculptures, experience the richness of European art in an intimate setting.
Historical Narratives: Discover the captivating stories behind the artefacts and antiques that adorn the halls of the Wallace Collection. Gain insight into the lives of the collectors and the historical significance of each piece, creating a deeper connection to the cultural heritage on display.
Private Insights: Enjoy the exclusivity of a private tour, ensuring an unobstructed view of the collection and the opportunity to engage in personalised discussions with our expert guide. Delve into the nuances of art, history, and craftsmanship in an atmosphere of tranquility.
Sponsored by North Bridge House School:
This special event is proudly sponsored by North Bridge House School. We extend our sincere appreciation to North Bridge House School for their generous support, enabling us to share this enriching cultural experience with our FOCUS members.
Don't miss this exclusive opportunity to explore the Wallace Collection with the support of North Bridge House School. Secure your tickets now and embark on a journey through art, history, and elegance with the Wallace Collection Private Tour.
About North Bridge House:
North Bridge House is a family of six independent day schools for boys and girls aged 2 to 18 years. Families can benefit from the option of a stress-free all-through education or choose individually tailored preparation for the next stage of their child's school career.
At North Bridge House, we are on a constant journey of getting to know and understand every pupil as a unique and rounded individual. We understand that success is not simply defined by outstanding academic achievement, but also by every pupil finding a direction in life that truly reflects their unique talents and personality.
It is our specialist expertise that ensures every pupil realises their true academic and personal potential – setting them on a clear journey to find their True North.
Venue
Wallace Collection

Hertford House, Manchester Square




London

,

W1U 3BN

+ Google Map
Organiser
FOCUS & North Bridge House
If you are already a FOCUS member please log-in as price for members will be lower or free.