FOCUS Webinar – Unlocking Career Opportunities in the UK
November 16 @ 18:30

-

19:30

Free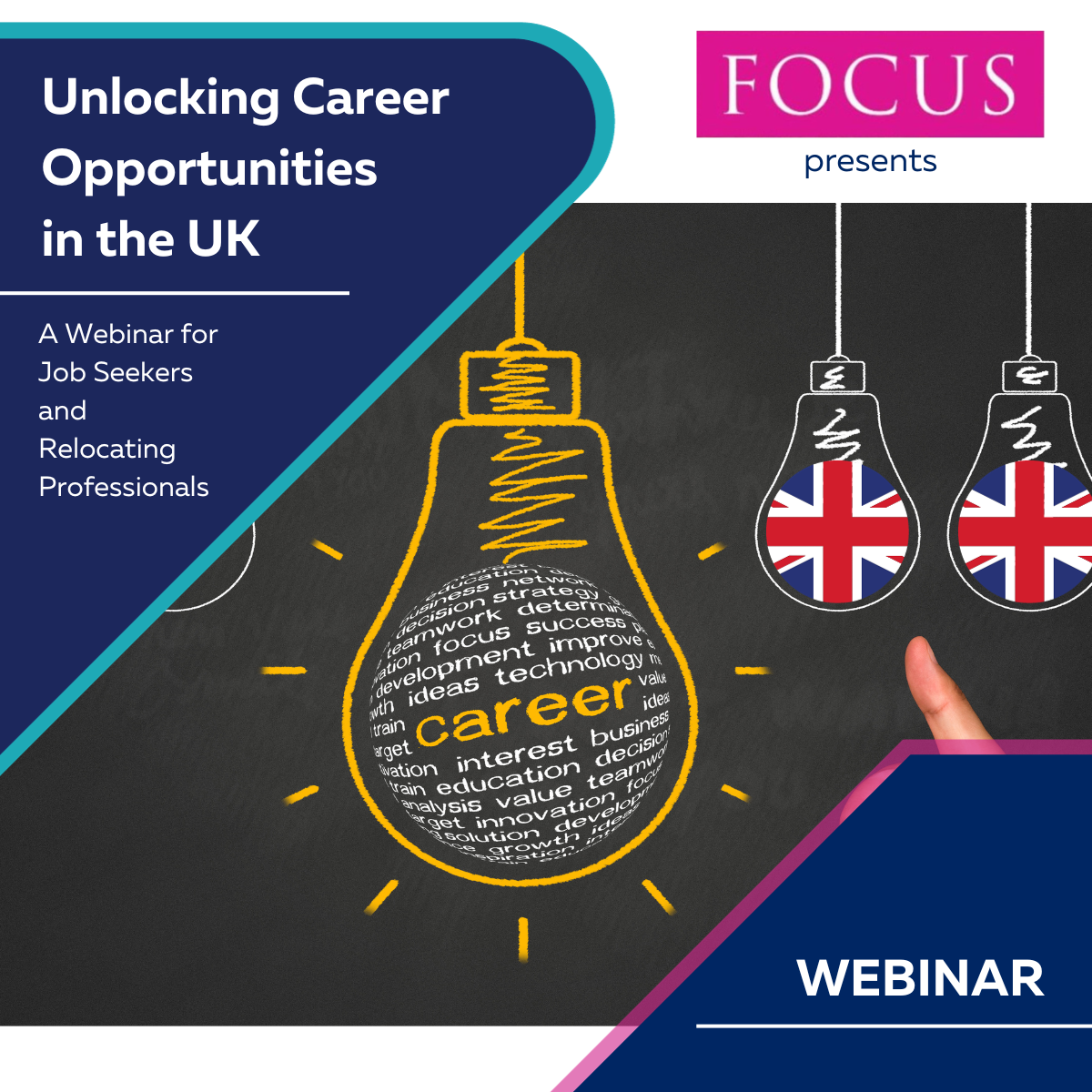 Are you ready to kickstart your career in the United Kingdom?
Navigating the job market can be a daunting task, especially in a new country. Whether you're an international professional, or simply seeking a career change, this webinar is designed to equip you with essential strategies and insights to enhance your job search in the UK. Join us as we delve into key aspects of the job hunt, providing you with actionable tips and expert advice to increase your chances of success.
We Will Cover Selected Topics from:
Understanding the UK Job Market: Gain insights into the current job landscape in the UK, including popular industries, emerging sectors, and regional variations.
Crafting an Effective CV and Cover Letter: Learn how to tailor your CV and cover letter to match UK employers' expectations. Discover the best practices for highlighting your skills, experiences, and accomplishments.
Networking and Building Professional Relationships: Understand the significance of networking in the UK job market and learn practical strategies for connecting with industry professionals, attending events, and utilizing online platforms.
Job Search Strategies: Explore various job search methods, from online job boards to recruitment agencies, and uncover hidden job opportunities.
Interview Preparation: Master the art of preparing for job interviews in the UK, including common interview questions, cultural nuances, and how to showcase your suitability for the role.
Showcasing Transferable Skills: Learn how to present your transferable skills effectively, even if you're changing industries or transitioning from a different country's job market.
Salary Negotiation: Understand the intricacies of salary negotiation in the UK, from researching market rates to confidently discussing compensation packages.
Cultural Etiquette in the Workplace: Familiarise yourself with workplace norms, etiquette, and communication styles that are common in the UK business environment.
Q&A Session: At the end of the webinar, we'll have a live Q&A session where you can ask your specific questions to our panel of experts.
Whether you've previously participated in the FOCUS Career Development Programme or not, this webinar is designed for everyone. You'll discover intriguing facts and valuable tips about the UK job market.
Register now to secure your spot.