FOCUS Webinar – UK Immigration Law & Visa Tips + Foreign Currency Exchange Best Practices
October 10 @ 18:30

-

19:30

Free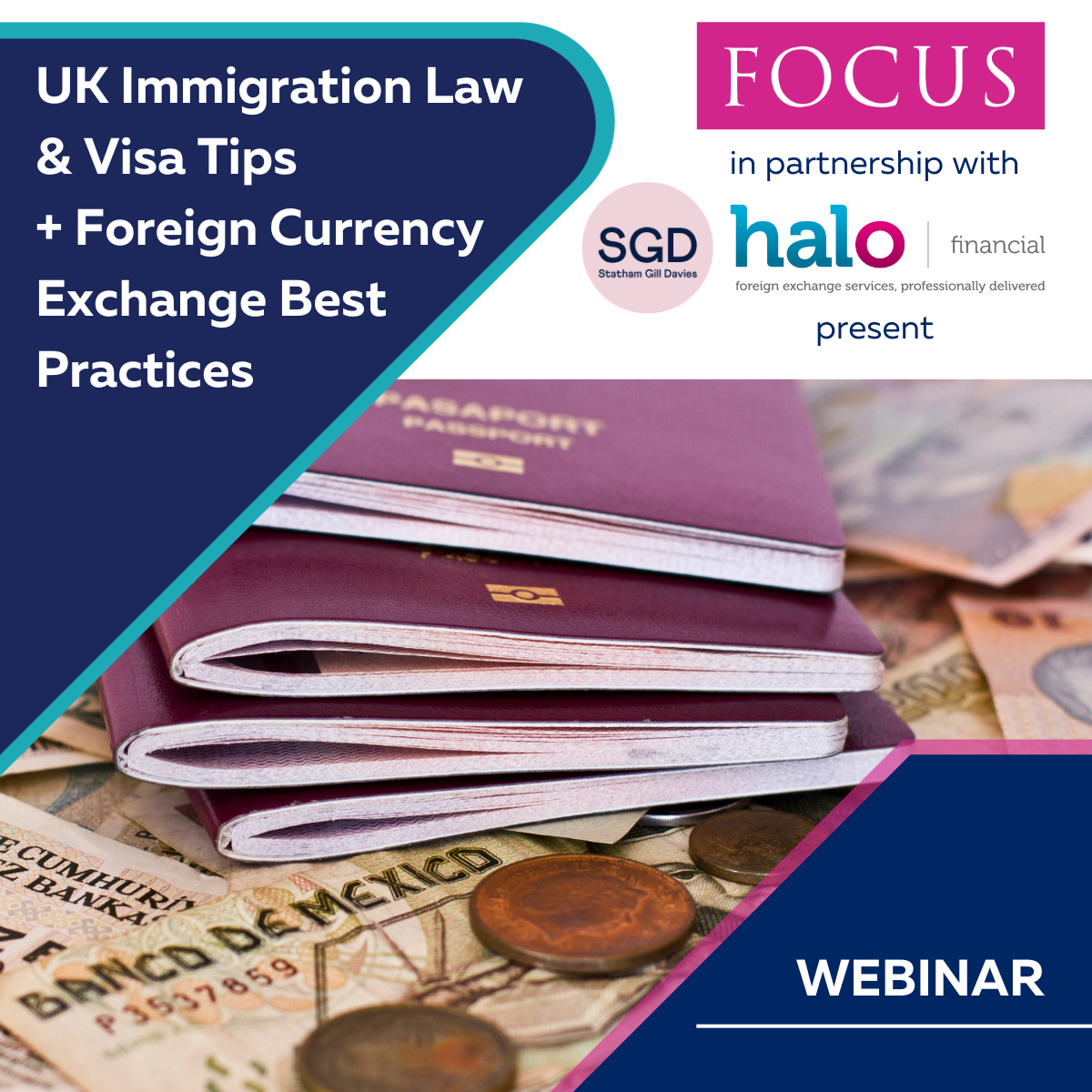 Are you a Skilled Worker migrant or an expat seeking to extend your stay in the UK or looking to apply for Indefinite Leave?
Are you looking to transfer money internationally but find yourself overwhelmed by the complex process and hidden fees?
Join our informative webinar in partnership with SGD Law and Halo Financial.
Date: 10 October 2023
Time: 6:30-7:30pm
Access: ZOOM link
Webinar agenda:
UK immigration law & Visa tips with SGD Law – 35 min
Throughout the webinar, Mark Barnett, Head of Immigration at SGD will provide practical insights, share best practices, and offer valuable tips to help you navigate the complexities of extension and Indefinite Leave to Remain (ILR) applications. Mark will discuss common challenges that applicants face and provide strategies for overcoming them. Don't miss this opportunity to enhance your understanding and make informed decisions about your immigration journey,  particularly  Skilled Worker migrants.
Foreign Currency Exchange Best Practice and Top Tips to achieving great exchange rates with Halo Financial – 15 min
During this insightful webinar, Halo Financial (award winning Foreign Exchange Specialist) will delve into the intricacies of international money transfers and shed light on the common challenges individuals and businesses face in this globalized economy. You will gain invaluable 'Top 6 Tips', insights into the best practices, strategies, and FX solutions offered by Halo Financial, a trusted leader in foreign exchange services.
Q&A– 10 mins
Join us for this informative session and empower yourself with the expertise to navigate the extension and ILR application processes effectively and embark on a journey towards financial empowerment!
__________________________________________________________________
SGD LAW
Statham Gill Davies Solicitors have grown organically over the years expanding beyond its music, media and entertainment roots to offer its clients expertise across the full range of legal services including property, dispute resolution, company and commercial, immigration and Notarial services, employment, family, sport, wills and probate.
The UK Immigration Team at SGD deal with a wide ambit of immigration  applications, both from within the UK and overseas, using their substantial experience and expertise to advise and represent  individuals, families and businesses, with their immigration applications and to significantly increase the likelihood of their applications being approved.
_________________________________________________________________
HALO FINANCIAL
Since Halo formed in 2004, the Foreign Exchange market has become overcrowded, highly automated and increasingly impersonal, driven by companies seeking profit led efficiencies and an over-reliance on technology.
At Halo, we recognise the benefits of technology, however, we know how powerful strong client relationships are, so we make them the centre of everything we do.
When we ask our clients, "why Halo?" the answer is simple: Halo's expertise and award winning personal service, help their clients achieve great exchange rates.
To us, the strongest currency is relationships.
If you are already a FOCUS member please log-in as price for members will be lower or free.